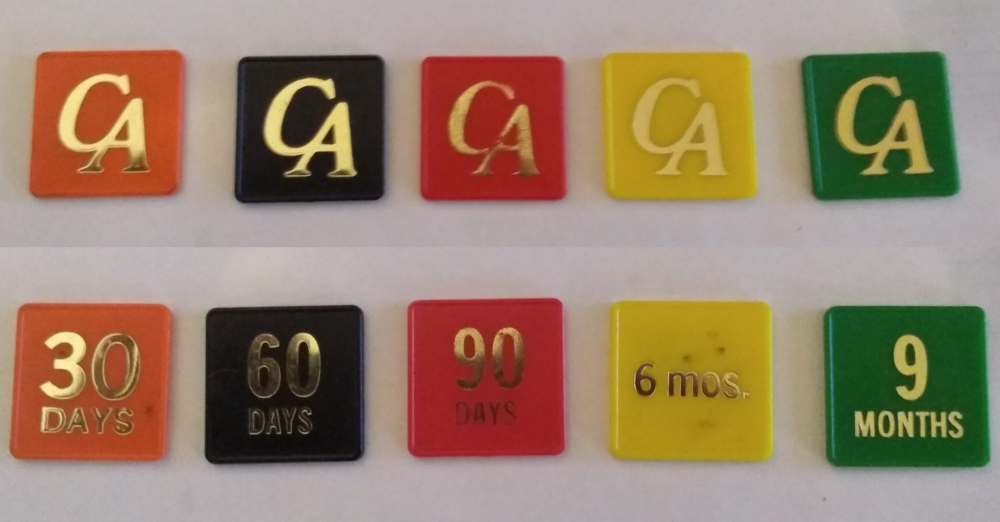 According to Leon K. (an early 1984 CA Member of Atlanta, Georgia), said that "Dock" (his nickname) Crandall who was originally A.A. brought C.A. from California to Atlanta, Georgia sometime in late 1983 or early 1984 because many of his prospects were "cocaine junkies." .At first Atlanta, Georgia made their own sobriety chips from 1985 to 1986. When Georgia was ratified as an Area at the 1st World Conference Feb. 8,9, 1986, it was agreed that they would buy their sobriety chips from World Services in L.A.
According to Leon K., "Dock" was killed accidentally on a 12 Step call to one of his sponsees who had relapsed and was going to commit suicide with a shotgun. "Dock" tried to intervene and the shotgun accidentally discharged killing "Dock."
Set of Atlanta C.A. chips submitted by Mike S. (Georgia Area)
Sets of Early C.A. Chips (Early CAWS chips on left 1987-1993), Atlanta, Georgia chips in the center and a CA from early Los Angeles, on the right submitted by Leon K.