UK – Wales Area
Cocaine Anonymous first came to Wales in August 2009, starting with 1 meeting in Swansea. Within a short time, a meeting was opened in Cardiff with another following soon after in Bridgend. These meetings enabled the fellowship to grow and today we have 17 meetings across the principality.
We were initially part of West Country District that served us well in our early days. However, as we grew, it became apparent that CA Wales needed to form as a district. This we did in 2018 at the same time forming our own PI, H&I & F&E committees.
PI is very active in our Area, from doctor's surgery poster delivery to getting some of the literature translated into Welsh. We are invited every year to give our ESH to 1st year medical students to try and help them better understand the illness and alternate routes of treatment.
H&I has been especially successful by opening meetings in HMP Parc and HMP Cardiff together with meetings in WCADA, South Wales leading Drug and Alcohol support centre.
Our F&E committee has organized and delivered many 1-day conventions, each achieving a fantastic attendance in excess of 120 people and resulting in donations to WSO in excess of £1500.
August 29 – 30, 2020 New Area Petitions Forwarded from WSCC (& Related letter received) Indonesia & Wales. Motion made to provide interim recognition of area petitions from Wales and Indonesia until next conference, made and seconded…motion made to divide the motion, made and seconded, motion to divide fails…motion to provide area recognition passes unanimously.
Visit the CA Wales Area website: http://cawales.org.uk/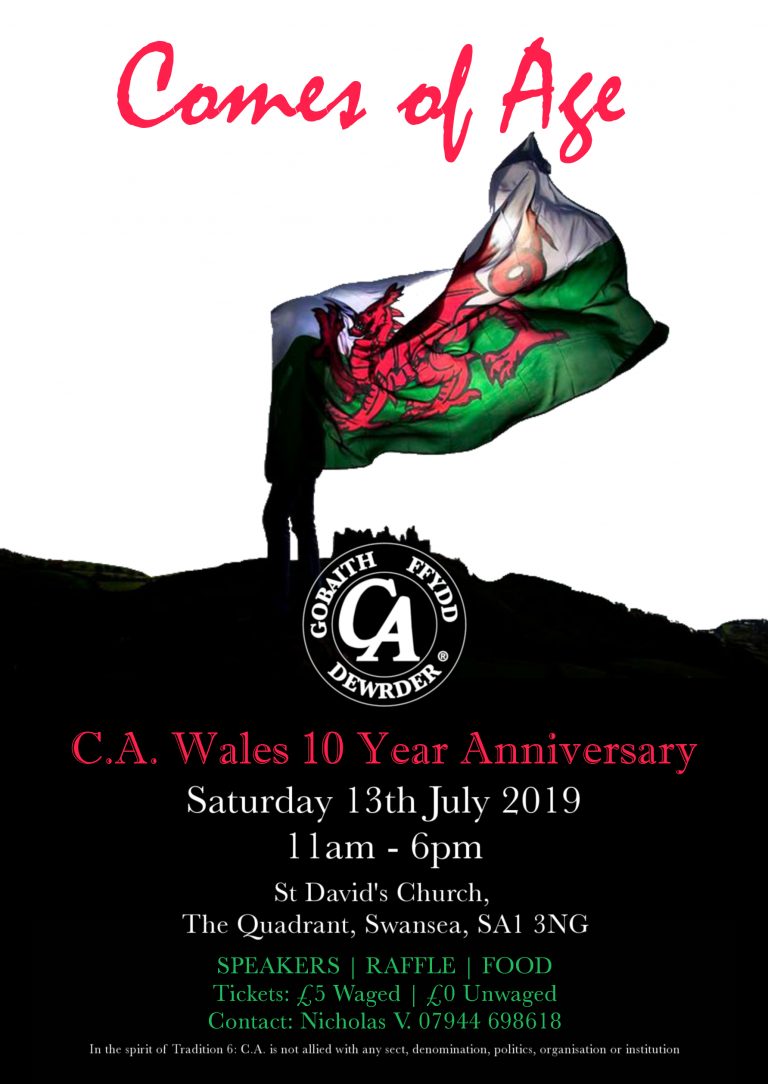 July 13, 2019 – C.A. Wales 10 year Anniversary.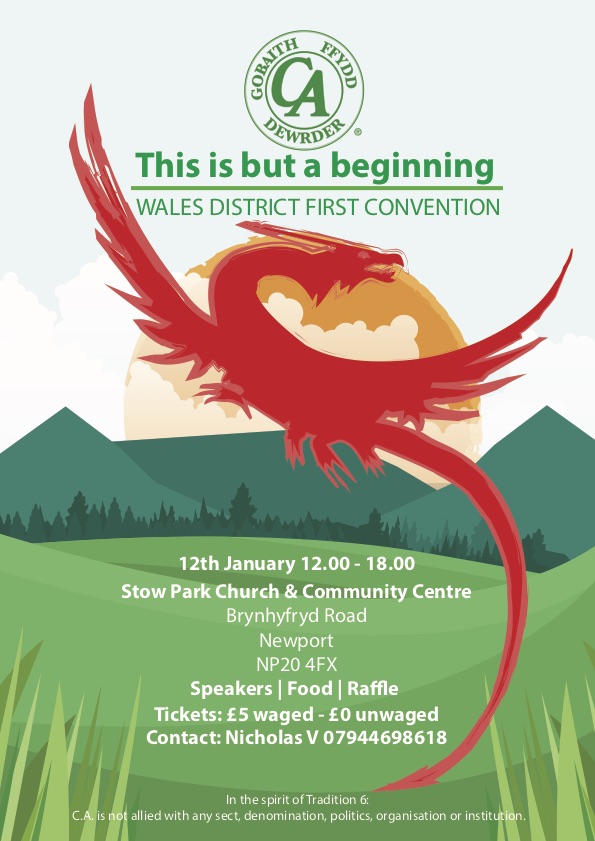 "This is but a beginning:" 1st Wales District Convention: January 12, 2019